Hello Everyone, Am back with an absolute thriller article on the World's Most Amazing Beaches to Explore Before You Die. Let's say, you are going for a proper summer vacation. The first thing that comes in your mind after hearing the word summer is beaches, actually! Then the next step would be, you searching google for the most amazing beaches to explore in the World. Then finally you find this article, which is containing all the information on the most amazing beaches of the World.
This article is featuring 10 of the most amazing beaches of the world. It would be injustice to the beaches featured here, If you do not go and visit any of these most amazing beaches. These beaches are absolutely stunning and thrilling in every way.
Now I would not like to waste more time of yours! Since you are ready with your surfboards and swimsuits, let us go and get wet in the most amazing beaches of the World.
Camps Bay Beach in Cape Town, South Africa:
To start this incredible list of most amazing beaches, We have the Camps Bay Beach. This beach is just 10 minutes ride away from Cape Town in South Africa. The spectacular beach is surrounded by the Apostles Mountain Range which is pretty uneven. But the travel is worth the fun that you get at the beach. The beach offers you fun activity such as surfing, shopping and bars which tend to offer some amazing drinks. The peak season of visitors for this beach is November – January.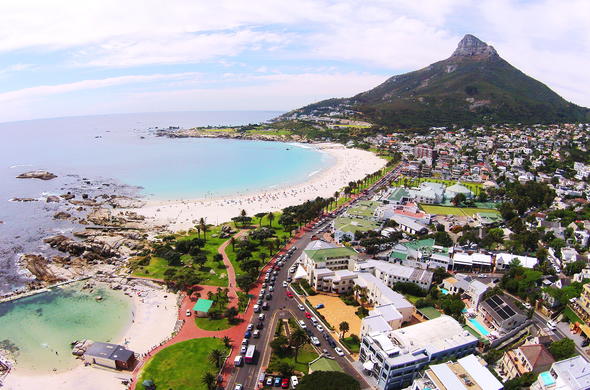 Image Source: http://capetown.hotelguide.co.za/images/camps-bay-village-lionhead-campsbay-beach-590×390.jpg
Horseshoe Bay Beach in Bermuda, United Kingdom:
Next one is pretty stunning in beauty and hence is being featured as one of the most amazing beaches in the world to visit. This beach is famous for the shape of the beach and that is the perfect horseshoe shape of the beach. The second thing this beach is famous for is the pale-pink sand that this beach offers. This is a perfect beach for lazing around and especially for tanning oneself. The peak season for this beach is November – March.
Image Source: https://i.pinimg.com/originals/14/83/ee/1483eec49a8efa4a16399c3d95439dd8.jpg
South Beach in Miami, Florida:
This one is my favourite one because it is straight out from the renowned PC game aka GTA Vice City, literally!! This beach absolutely looks like it has come straight out from that particular game(Probably it's the other way around). Moreover this beach is famous for the crowd that looks like its never-ending. The crowd includes people like models, actors, tourists (especially), photographers and of-course the locals. The people come here just to relax in this perfect white sandy beach. The kids are especially going to enjoy this beach. These reasons are probably enough for featuring this beach in the Most Amazing Beaches list.
Image Source: https://media-cdn.tripadvisor.com/media/photo-s/0f/03/90/d5/clevelander-south-beach.jpg
Elafonissi Beach in Crete, Greece:
The next one is probably pretty cool as it has come straight from Greece. When I say Greece people usually imagine Romans and Graeci. Its not wrong to imagine Greece like that, but seriously guys. Greece is famous for its beaches too as they are second to none when compared to any of the most amazing beaches featured here. This beach is simply dazzling as you can find white and pink coloured sand here. The beach houses many shops too. So yeah it's a shoppers-stop! These reasons were enough to make it feature in the list of Most Amazing Beaches.
Image Source: http://rg-resort-spa.com/wp-content/uploads/2014/07/Elafonisi.jpg
Bondi Beach in Sydney, Australia:
This one is another of the Most Amazing Beaches as this is just 6 miles out from the busy town of Sydney. The residents of Sydney usually try and visit this beach with their family. As this beach is perfect for a family who needs a break from their boring and tiring day's schedule. This beach is surrounded by some of the most beautiful boutiques of Sydney. Moreover, This beach spreads out for around half-a-mile! You have to visit this beach with your whole family.
Image Source: https://upload.wikimedia.org/wikipedia/commons/thumb/e/e5/Bondi_Beach_Sydney_Australia_7.jpg/1200px-Bondi_Beach_Sydney_Australia_7.jpg
Santa Monica Beach in California, U.S.A:
Now this one is another of the most Amazing Beaches to visit. This is also another beach that has been featured in a game which is very popular and that is 'GTA V'. This beach is also one of the most urbanised beaches of the U.S.A. It has a completely solar-powered Ferris wheel. This beach also houses many hotels alongside its shores which are truly state-of-art hotels and shops. The sunset offered here is just a sore-sight for human eyes.
Image Source: https://www.californiabeaches.com/wp-content/uploads/2014/09/bigs-Santa-Monica-Pier-on-beach-with-Sunset-85962332-Large-1000×667.jpg
Lido Beach in Venice, Italy:
The next one is pretty bizarre as the whole of Venice is particularly a beach. It actually never required a beach, but since it has a perfectly stunning beach. It basically gives me all the reasons for featuring it in our list of Most Amazing Beaches in the whole World. This place also hosts the Annual Venice Film Festival! Pretty cool, right. Then be sure to visit this beach especially during early September.
Image Source: https://bloximages.newyork1.vip.townnews.com/mysuncoast.com/content/tncms/assets/v3/editorial/6/36/636707c6-6a01-11e6-a678-67617ef6c2d3/57bda5a553ac4.image.jpg
Pampelonne Beach in Saint-Tropez, France:
This one is straight from France. This is again undoubtedly one of the most amazing beaches to explore. Its pretty perfect for the most amazing beaches list. Since it is a beach that is for sure going to leave a hole in your pocket. But the enjoyment you get at this beach is worth the money you spent. You get to see luxury cars all around this beach and moreover you are entitled to have a luxury and happy time with your family over here!
Image Source: https://www.standard.co.uk/s3fs-public/styles/hero_mobile/public/thumbnails/image/2012/01/03/09/pampelonnebeach415.jpg
Ipanema Beach in Rio de Janerio, Brazil:
Next one is again one of the most amazing beaches to have been featured here. This beach is hands down the best place to get tanned and also find many tanned bodies! This beach is famous for the extraordinary and breathtaking sights it offers. The sand is perfect gold in colour and you also get to stare at the 'Emerald Peaks', Now how cool is that. Pretty cool I believe, and that's why I suggest everyone of you to take your family to visit this beach which is undoubtedly one of the beauties by Mother Nature.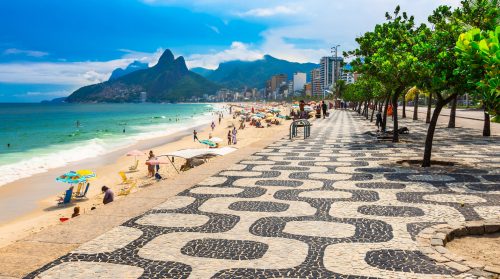 Image Source: https://www.jigsawexplorer.com/puzzles/subjects/ipanema-beach-500×279.jpg
Pink Sands Beach in Harbour Island, Bahamas:
Last but not the least, the Pink Sands Beach. The name gives it away right?, Till now you would have figured it out by yourself that this is a beach that is truly boasting of being pink in colour. But did you know that the pink colour is contributed by the shells of sea creatures known as Foraminifera. These beautiful creatures are capable of receiving an applause by all the tourists who have visited this beach. The water of this beach is teal in colour and the beach is a jaw-dropping 3 mile long. Moreover, you also get to travel in a Golf Cart here!
Image Source: https://feel-planet.com/wp-content/uploads/2015/05/Pink-Sands-Beach-Harbour-Island-Bahamas.jpg
Well folks, looks like this is it for today. Hopefully, I believe that you all liked this article very much and this article also gave you some extra knowledge on some of the most amazing beaches in the World. Do let me know in the comments section on the beaches that are worthy of mentioning in this article.
Okay then, goodbye travellers. Stay tuned for the next article and yeah, Keep Travelling folks!