Well Folks, looks like am back with a fresh topic on a visit to Munnar. Munnar is an ideal place to spend your vacations as this place has everything ranging from tea estates to lush green nature. A visit to Munnar can get that craving of yours for an exploration and wilderness to be silent for sometime. Did you know that?, Munnar is the world's largest tea estate. Munnar also houses protected areas which give cover to some of the most endangered and endemic species of flora and fauna, such as the Nilgiri Tahr, the Arabian Tahr and the Neelakurinji flowers.
Let me tell you travellers that this is also a dream come true for all the landscape photographers, As a visit to Munnar can get your hands on never-seen-before looks of mother nature. The cherry on the cake is when you have a photographer among the gang of friends you take for your travel. So what are you waiting for hope on aboard!, Let's go on a journey of a visit to Munnar.
Munnar is an iconic hill-station with romance overflowing in its air. Munnar is situated in the God's own country and that is none other than the beautiful state Kerala, situated at a height of 1600 m above sea level. It is a perfect summer getaway. Munnar in the colonial era was the summer resort for even the British Government with virgin falls, rolling hills and scenic valleys which has the power to water any photographer's lenses. With huge waterfalls, winding paths and beautiful tea plantations is perfect for a traveller who is on a visit to Munnar.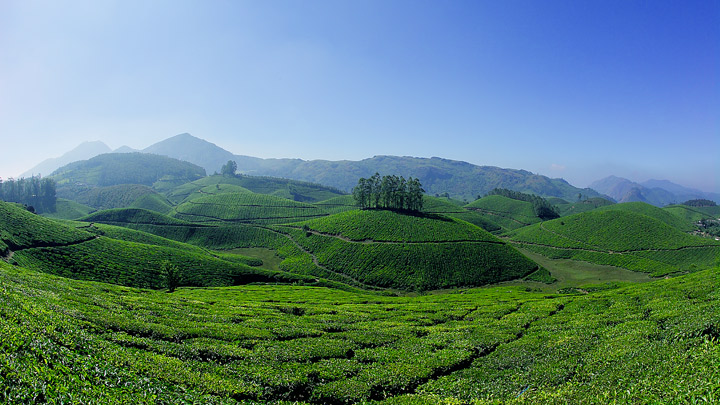 Image Source: https://www.keralatourism.org/images/destination/large/munnar20131031131946_202_1.jpg
This prime tourist spot is located 13 km from Munnar. This town is known for the view of the famous lake it offers from the masonry dam and this lake also gives you a pleasurable boat ride to enjoy. Mattupetty is also famous for the dairy farm run by Indo-Swiss Livestock Project where one can witness high yielding breed of cows. This place acts as a strong point in order for a visit to Munnar.
Image Source: http://www.munnar.com/images/mattupetty3.jpg
Eravikulam National Park:
This spot is one of the main reason for a visit to Munnar. This spot is the most prime spot near Munnar. This famed National Park is spread over 97 sq. km. This park houses some of the world's most rarest species in Butterflies, Animals and Birds. This National Park also tends to offer a great view of the tea plantations which are covered by misty clouds, and this type of background can also turn out to be the vantage point for a photographer. This National Park wears a blue blanket during the flowering season of the rare Neelakurinji flowers. This flowering is considered rare as it blooms once in every 12 years. A long wait huh, well then consider the beauty offered by this National Park and then go and enjoy a visit to Munnar.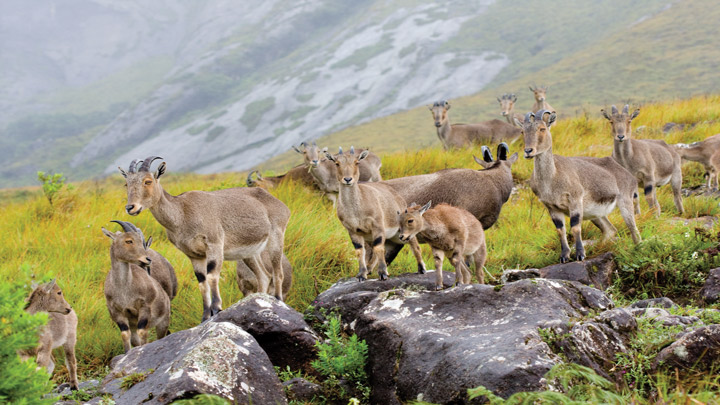 Image Source: https://www.keralatourism.org/images/shooting_location/large/eravikulam_national_park20131128151224_24_1.jpg
This is a spot perfect for all the trekkers, As this Peak gives you the chance of viewing mother nature from a great height, literally. The Anamudi Peak is the highest peak in the whole of South India and is situated at a height of 2700 m above sea level. This peak is for sure going to be a golden chance for all the trekkers and nature-lovers out there, Hence making it also a crucial reason for a visit to Munnar.
Image Source: https://media-cdn.tripadvisor.com/media/photo-s/03/07/6b/a2/anamudi-peak.jpg
Chinnakanal & Anayirangal:
Now this spot is like a true humble abode of a photographer. As each corner here turns up a surprise for the visitors and the waterfalls just make this place look like a pearl in a queen's necklace. The waterfalls just prove to be a main factor for a visit to Munnar, As the waterfalls turn out to become the perfect background for a photographer's lens. This place is situated close by to Munnar and is commonly known as the Power House Waterfalls and they intend to live up-to their name. Anayirangal is a place full of green carpets till where the eye can see up-to and has tea aroma filled in its air.
Image Source: http://geekytraveller.com/wp-content/uploads/2015/05/Chinnakanal-and-Anayirangal.jpg
This is one of the biggest reason you will find for a visit to Munnar, because everyone knows that Munnar has its own place in the tea Industry. As, you will find all the evidence here which will depict the origins and development of Tea. Therefore to preserve the name of Tea in Munnar, The Tata Tea have founded the Tea Museum in the year 2005 in Munnar for the sole purpose of depicting as to how Tea started out till what it is today. This Museum contains photographs, machinery and artefacts, which tend to speak the origination and evolution of tea in detail. This museum is located in Nallathani Estate of Tata Tea in Munnar and is a tea-lover's paradise.
Image Source: http://4.bp.blogspot.com/-P6y4Jnj4fFU/VZzXFgolA4I/AAAAAAAADh8/pJ__vSX4hAM/s400/tata%2Btea%2Bmuseum.JPG
This is truly a heaven for all photographer's well at-least the name suggests it all, This is also a main reason for all the photographer's for a visit to Munnar. This Point is placed at an ideal position as it is on the way to Mattupettty. It also just doesn't act as the ideal position for photographer's but it also is a great picnic spot. The lush tea gardens and the aromatic spices make you dreamy about this place right. It houses some of the most indigenous vegetation which include silvery oaks, hills that are perfect and also many more yet to be discovered. The emerald like tea gardens with a turquoise like sky in the backdrop can make any photographer's lens to water. This place has an absolute alluring beauty in itself!
Image Source: http://2.bp.blogspot.com/_dzW2917kJeg/TDW1depVb4I/AAAAAAAAAI8/9XCLzOnX0dk/s1600/3556281183_e4fab598dd.jpg
This beautiful place located in Munnar at a height of of 3500 feet above the sea level, proves to be yet another reason for a visit to Munnar. This garden is one such garden which will leave you awestruck for sure. This garden tends to offer its visitors a state of peace and enlightenment. This garden is spread over a space of 2 Acres and houses a variety of plants, spices, crops and other fruit trees. The heart-warming and spectacular blossoms of the flowers here will make sure that you visit this place again and again and yet again! This is the best place to visit if you want to get away from the hustle-bustle life of the city.
Image Source: https://edge.ixigo.com/ixi-api/img/511c8a59e4b00395308edee0_600x315.jpg
Looks like I am out of words for describing this place, folks. Well, No problem you travel-lovers can tell me more about this place. But as far as my knowledge goes, I have this much Information only about this place and Obviously I can leave the other beautiful parts of Munnar for you to discover! All in all, this place is worth a visit right. So what are you waiting for, come on you have a lot of packing to do for a visit to Munnar. So, Move it Travel-lovers!