Hello everyone! Am back with another super exciting and unique article that is based on Luxury Indian Trains. The trains of India are an integral part in the lives of each Indian. As the trains help the citizens commute between cities or states in a matter of minutes, hours and days. The trains help the people to reach their jobs on time and the trains also connect the people to their loved ones.
Since India is a country of bright and vivid cultures in almost everything. So, Here is presenting you one of the most vivid category of trains and these are the Luxury Indian trains!
So, Welcome aboard folks. This ride is all about enlightening you on the knowledge of Luxury Indian Trains. Just relax and enjoy the ride.
A Royal Welcome on Maharajas' Express
This is our first train folks. Feast your eyes over the Maharajas' Express, This train offers true Maharaja style luxury. As the name suggests, you can pretty much find everything here fit for a true Maharaja. From full stocked bars, lavish suites to on-board water filtration plants, You name it this train has it all! This train features in the Top 5 Luxurious Trains in the World, Pretty awesome right.
There are more surprising features about this train, so hold on to your berths. This train is more than half a mile long, pretty impressive right. This train also boasts about having individual climate control for each of the passengers. Moreover, this train also offers Air Ambulance Services in case of emergencies.
This train runs only during October – April. Moreover the tickets start from a whooping price range of Rs. 2,45,807 per person and go up to an astonishing Rs. 4,80,760 per person and this is only the fare of Deluxe Coaches! The costliest coach is the presidential coach that is priced around a mind boggling Rs. 16,64,465 per person. But since, this is the most luxurious of all the Luxury Indian Trains you will ever find therefore it is worth every penny.
Enjoy Royalty ride straight from Palace On Wheels
This is one of the jewels of Luxury Indian Trains. This trains is literally like a Palace on wheels on the inside. This train offers luxurious cabins, well stocked bars, exquisite wallpapers and also some of the rare artistic paintings as well as rare handicrafts.
This train was launched in 2009 in order to increase the tourism of India, particularly Rajasthan. Since 2009, this train has come a long way and has built an unbreakable status for itself in the World and not only in India. This train offers its passengers the luxury of the mighty kings of Rajasthan.
This train is up and running from September – April. The tickets are priced at around Rs. 3,50,000 per person without taxes! This is a perfect addition to our list of Luxury Indian Trains.
Enjoy the ride on The Deccan Odyssey
This is literally a 5-star hotel on tracks. The Deccan Odyssey basically is the depiction of the luxury life that the rulers of India led. This train offers royal cabins, multi-cuisine restaurants and a conference car too! Moreover this train also has a thing for the ladies and that is an on-board Spa!!
This train is the pure reflection of the royal and luxurious life that a king has led in India. But the conference car and the on-board spa takes this train to a whole new level of ingenuity.
This train runs from October – April. The tickets here, start at a great rate and that is Rs. 1,67,000 only per each person. Therefore this a great and perfect example of Luxury Indian Trains.
Ride the glorious Golden Chariot
This next one, is truly worthy of the tittle of Splendid and luxurious 7-Star Chariot on tracks. The Golden Chariot is a chariot that never disappoints its passengers in any kind. The passengers are never left dissatisfied with a ride on this chariot.
As this train houses a well furnished royal interior with a mini gym, an Ayurvedic spa and lots more to offer. I mean just have a look at the features you will for sure fall in love with this train, Oops sorry I mean Chariot.
This Chariot offers the royal ride during October – March. The tickets here start Rs. 1,82,000 per person. This train offers the ride of the whole South-India and tends to offer its passengers most of the beautiful places to visit. Therefore this a perfect train to feature in our list of Luxury Indian Trains.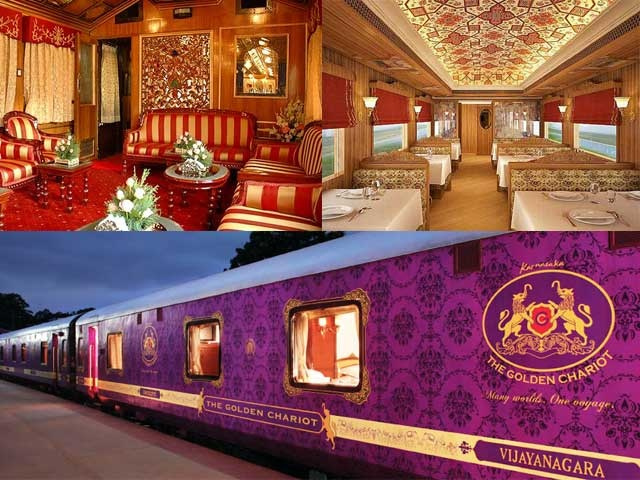 Enjoy a majestic ride on the Royal Orient Train
This one is another gem of the Luxury Indian Trains list. This train provides its passengers with an unforgettable ride to some royal destinations of India in a complete royal style. The passengers feel at home here since the staff of this train tends to provide an absolute hospitable service.
This train houses features such as libraries, restaurants with a variety of cuisines to offer and also it offers spacious baths for everyone. But the real feature of this train is the way the staffs treat the passengers of this train. I am not going to talk more about the staff since its for you to discover more about their hospitable and humble services.
This Royal Train is up and running during most of the days of a year. The tickets start at Rs. 7,480 per night for sharing basis cabins during October – March and Rs. 9,580 per night for for sharing basis cabins during April – September.Moreover, the costs are of per person. The features was all it needed to feature in our list of Luxury Indian Trains.
Old is Gold! Presenting before you the Fairy Queen Express
This one is an absolute stunner and a beauty in vintage style. You must have heard the saying Old is Gold, Well you can practically feel the saying here. It is the most oldest of all the Luxury Indian Trains, Built in 1855 this train is literally running till day without any glitch.
This train has an absolutely stunning lounge and moreover the hospitable services provided by the staff really puts a star on the status of this train. The fact that the Guinness Book of World Records has mentioned it as the world's oldest working locomotive acts as another reason for 5 stars to be added to this train's status.
The trip on this true legendary train starts from Rs. 2,700 per person only and is worth all the money spent on it. This train is active during October – March. This train is the perfect end of our list of Luxury Indian Trains.
I believe that was the last train featuring on our list of Luxury Indian Trains, But seriously it was one heck of a list. As it contained the most luxurious to the most oldest, the most hospitable to the most hotel-like feature trains. I believe that everyone of you has had fun by just reading this article. Well then, try to imagine about riding any of the Luxury Indian Trains featured here. Truly a blissful dream, right!
Well then what are you waiting for? Get going and start booking the tickets already. And also have a safe journey, folks!