Well folks if you are eyeing to travel to the cold desert mountain valley located in the Himalayan Mountains situated in the north eastern part of Himachal Pradesh, shortly known as the Spiti Valley. Then here are some things you must know before you even plan to travel to Spiti Valley. But before that lets talk about the beauty of Spiti Valley. The name "Spiti" means "The Middle Land", i.e.. the land between Tibet and India. It is also known as 'Little Tibet'. Culture and natural beauty are actually overflowing in Spiti Valley. But travelers just don't come here only to view Spiti Valley's culture and beauty but they can also do trekking and jeep safaris here. Trekkers flock here to Spiti just to get a scenic glimpse of the mountains, enchanting landscapes, glaciers and pristine environment. Pin-Parvati, Parang-La and Pin-Bhaba are some of the popular treks offered here.
Well now its time we hear some important things before you go to Spiti Valley,
Be prepared for High Altitude:
​Acrophobiacs beware! Kaza the district headquarter is at an altitude of 3650 meters (11980 feet). Chandratal is at 4300 meters (14100 feet). As there is less oxygen here which will eventually lead you to Acute Mountain Sickness(AMS). For this AMS to not happen to you, You must take precautions such as gaining height slowly and giving maximum time for your body to get acclimatized to this type of harsh environment thus this will help you in reducing your oxygen intake. There is also another method of taking precaution and that is carrying a common medicine namely Diamox for altitude sickness as well in your medical kit. But remember that giving more time for your body to get acclimatized to the environment up there will enable you to enjoy your trek to the maximum or else you will be feeling gloomy and queasy all day on the trek which will in turn prove to be a disaster for your trip.
Image Source: http://www.team-bhp.com/forum/attachments/travelogues/1454562d1451492028t-rarefied-air-high-altitude-cold-desert-spiti-valley-motorcycles-dsc_0574.jpg
No Drinking at High Altitudes at all:
​After a long and tiring climb to the top of a hill or a mountain, you might wish to have a glass of watery rum up there. But believe me it's one of the worst ideas your brain could have come up with, on a hill or even a mountain. Remember drinking and high altitudes do not mix so well, And if by chance you drink a glass of watery rum up there then brace for a hangover at a high altitude which will eventually not let you drink or eat anything for a whole day and it will also make you feel queasy all day long until the hangover comes down or you yourself come down from the hill actually whichever happens first! To say you the truth I have myself never touched cigarette or have had a drink ever in my life and therefore I request you all to also stop these habits or don't do them at all. Especially at Spiti Valley if you drink your whole group must handle you first since you will be having a bad headache the whole day which will eventually spoil not only your fun of the trek but also for the whole group it will be a bummer.
Image Source: https://i0.wp.com/vargiskhan.com/log/wp-content/uploads/2014/06/mountain-sickness-in-ladakh.jpg?resize=800%2C532
No Roads in Spiti Valley:
​The roads to Spiti are bad. In fact to put it rightly there are no roads there. There are mud lumps and stones intead of tar on roads. The roads will give you a feeling of being in an Army Camp since it will be a very tedious journey by foot. Gutter water will be flowing on the roads of Spiti Valley since the snow that melts will make the water level of Gutter increase as the sun gets higher and eventually roads will be covered with the water from the Gutter. Therefore your drivers will put pressure on you for an early start which will have a really unique reason for it and that is the gutter water level will be minimum so you will find that the roads aren't covered with water from gutter in early morning. And this will also probably be the main reason of you seeing traffic in very early mornings.
Image Source: https://i.ytimg.com/vi/JCfIpizpDBA/maxresdefault.jpg
Private Vehicle is for rich whereas Public Transport is rare:
​Hiring a private vehicle to get you to Spiti Valley will for sure burn a hole in your pocket. But private transport gives you a lot of flexibility in the form of choosing when to travel, what to see on the way and where to go etc. On the other hand you will hardly find any public transport in Spiti Valley. You can either burn a hole in your pocket or hitch a ride to Spiti Valley or even drive your own vehicle till there. People usually go for the rare public transport or they hitch a ride to get to Spiti Valley.
Image Source: https://i0.wp.com/walkingwanderer.com/wp-content/uploads/2017/06/hrtc-bus-service-in-spiti-valley-to-kaza-e1496468877132.jpg?fit=700%2C470
​Most people of Spiti Valley are very friendly in nature as they offer a room in their homes to the weary travelers who visit Spiti Valley. Most of the people staying in Spiti Valley speak Hindi and they also have a clean and a beautiful room for the travelers. Moreover nowadays in Spiti Valley Homestays seems to be on the rise and is common in that valley.
Image Source: https://media-cdn.tripadvisor.com/media/photo-s/03/01/eb/2d/spiti-valley.jpg
Guesthouses are the Norm here:
Other than home stays one can always find a guesthouse to stay in. Since there are no star hotels in Spiti Valley which eventually mean more business for guesthouses and homestays. At the time of Buddhist festivals it is common for all the guesthouses to be full, But when Dalai Lama is near that region the whole of Spiti Valley is packed with tourists and worshippers.
Image Source: https://c1.hiqcdn.com/images/property/resortimg/7653_w240.jpg
No Camping near Chandratal Lake:
​How much ever big Nature lover you are, but you will not be allowed to camp near the edge of Chandratal Lake. Since, the forest department has a restriction of upto 2 kms distance from the Chandratal Lake near Spiti Valley. Everybody eyes to camp near the Chandratal Lake due to the magnificent views of glacier and peaks of Mulkila & C.B. ranges from that spot. The lake is most beautiful to watch since it gets incredibly changing colors with the passage of day, peaceful and sublime, the lake is simply enchanting.
Image Source: http://www.terrainspotter.com/assets/images/images/Tents%20along%20the%20shoreline%20of%20the%20lake.jpg
Go to Spiti Valley with an open mind:
​The two traits that never work well with Spiti Valley are, First up is aggressiveness. Since Spiti Valley is a quiet region, people here are peaceful and gentle in manner and attitude. The other trait that is everyone out there is out there to make money out of you and you mustn't be so jarring in nature over there. As jarring might be taken as an insult to the whole region. The society of Spiti Valley is different and this place will have a completely different pace than the rest of the world. You mustn't always be unsure to trust anybody there but you must also maintain that limit of doubting somebody over there.
Image Source: http://spitiholidayadventure.com/storage/5970aac42bb29.jpg
​This is the best part, be prepared for a shock everyone. Only BSNL/MTNL connection will work in parts of Spiti valley as BSNL has widest coverage of connectivity. The quality may not be that good always. So, carry a BSNL or MTNL connection with you. Other networks just remain dead. There are also STD booths in Spiti Valley which will always remind you of the good old days. Sometimes even SMS also does not work. Having said all that, the connectivity and reach in Spiti Valley has greatly improved in last few years and is improving every year.
Image Source: https://brandcow.files.wordpress.com/2014/11/phone_india.jpg
​With only 250 days of sunshine in a year, winter in Spiti Valley is quiet an harsh affair. Temperatures on an average drop to -30 degrees Celsius, and the lack of any modern form of heating means most families cuddle together in a single room in the house and keep warm around wood fire. To survive these conditions, the Spitian people celebrate festivals and most family affairs (birthdays, weddings) in the winter months, stocking up on food and local alcohol; the winter months are some what private to Spiti Valley's unique and introspective culture, though survivable only by extreme adventurers. The summer months from late May to late September are the best time to visit Spiti Valley. As the weather warms up, the snow slowly melts and clears away to open up road travel to the valley.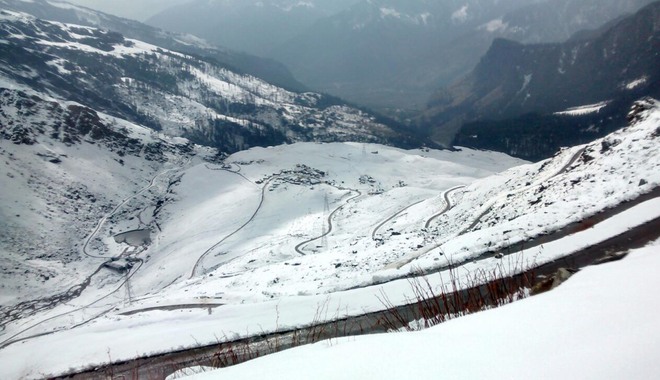 Image Source: http://images.tribuneindia.com/cms/gall_content/2015/11/2015_11$largeimg07_Saturday_2015_005700975.jpg
Well Folks looks like this is it for now, But let me give you two more mind boggling tips and they are, Firstly there is no airport in this region! and secondly from Manali side there will only be one ATM available and that is at Kaza so make sure you have bulging pockets during your stay in Spiti Valley. So forget the tensions of cards and worry about your pockets and moreover, Have a great journey to Spiti Valley!