Well Folks am back with another article on Best Travel Hacks. I know that all the travellers look for some or the other travel hacks which will ensure comfort in their travel experience.
All the frequent-fliers already know how much they fear the middle seat in a flight?
After going through this article you can easily navigate through airports thus saving your time, how to save money on cancellations or abrupt plan changes, discover 100% accurate hotel discounts, and many more.
Every traveller must have faced this issue atleast once in his lifetime where he regrets the decision of buying tickets beforehand instead of buying the tickets at lesser rate and at a particular day. So this tip is for the first time travellers, That by switching on the price alerts for your particular trip happening on a particular month will help you save money as well as time and moreover the price alert system keeps you up to date with real time prices. Hence, making you not regret the decision of buying tickets for a particular trip during a particular month. Therefore this tip had to feature in our list of Best Travel Hacks.
Image Source: https://www.cleartrip.com/images/fare_alerts/set-a-fare-alert-2.png
Wisely Use Free Stopovers:
Many travellers get frustrated nowadays due to the number of stopovers offered to them during their trip to their dream destination. So a tip from my side would be that, to use the free stopover given to you in a better matter by exploring your surroundings, by spending time in Mother Nature's lap or by talking to the locals about their culture or even talking to them about the popular tourist destinations nearby. Free Stopovers give you the chance to live two trips at the cost of one which is quite a brilliant offer for a nature-lover or an explorer. Therefore this is an obvious tip which had to feature in our list of Best Travel Hacks.
Image Source: http://blog.tortugabackpacks.com/wp-content/uploads/Stopover-Alaska.png
Keep breakfast in your backpack:
Travellers many a times go out for exploration with an empty stomach like me. But going out with an empty stomach can become a nightmare for a traveller, as Humans require quite an amount of essentials to keep them going for the day's activity involved in their travel. To do all the activities in your travel plan you need something that gives you the required energy and something that can be eaten on the go. Therefore what's better than an Oatmeal for a eat on the go supplement filled with energy required by your body for the travel. Therefore this is an essential tip in this list of Best Travel Hacks. There are many eat on the go foods such as Bananas, Wheat flakes nut mix, Muffins and Cookies all sound yummy right and they taste yummy too.
Image Source: https://www.onceuponachef.com/images/2011/05/6a0115721bb963970b01538e854f45970b-450wi.jpg
Have a collapsing laundry bag:
Travellers usually end up in stacking all their dirty clothes with the neat and clean clothes in the corner of cupboard, which can cause a lot of frustration to any traveller who is searching for a neat and fresh pair of clothes. The trick here to avoid that frustration is to always carry a collapsing laundry bag which is easy to carry anywhere and which  can carry a good amount of load and also which doesn't take too much of space in your backpack. Therefore, this tip had to make it to the list of the Best Travel Hacks.
Image Source: https://images-na.ssl-images-amazon.com/images/I/91vgkfHrapL._SL1500_.jpg
A Hydrating Face Spray can make your day:
They are many types of travellers some who like warm climate, some who like cold climate or some who like the moderate climate. This tip is for the warm and moderate loving travellers who usually tend to take great care that they don't get a sunstroke during their travels. This spray can easily keep you hydrated with the help of the most basic element which make the core of this spray and that is bamboo sap which tends to keep the freshness and moisture locked in your face and it also to an extent protects you from the harmful and relentless sun rays, when you are out walking in a desert during the day when the sun is most relentless and scorching hot. This tip is essential for your body thus, making its way in our list of Best Travel Hacks.
Image Source: http://bpc.h-cdn.co/assets/17/30/480×480/s762518-main-zoom.jpg
Passport Trouble, Don't Worry!:
Any traveller will be freaked out if they come to know in the last minute that they have just lost their passport in the house and have no time to search because the flight for Switzerland is going to depart in another 15 mins or so. This type of situation will most probably be a bummer for your honeymoon or a gang trip right, Worry not I have a tip for all the travellers who are overly-conscious about their children's passport or wife's passport or even their friend's passport more than theirs. The trick is most simple and is easily available anywhere in the world. The hack is to just E-Mail yourself a scan of the passports. This was an obvious tip in the list of Best Travel Hacks.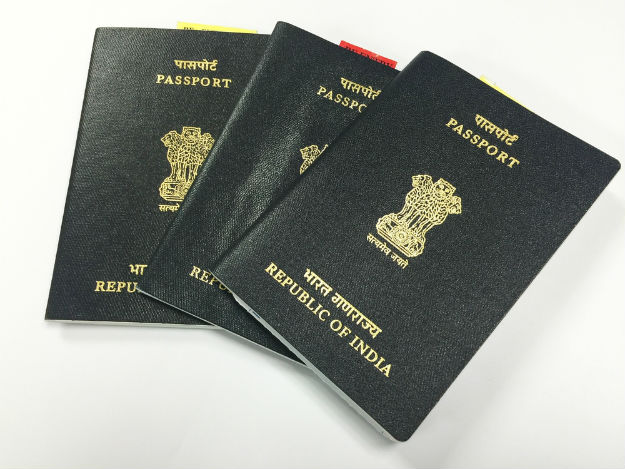 Image Source: http://s3.india.com/travel/wp-content/uploads/2017/01/India-passport.jpg
You can't outlast the Batteries:
This hack is completely bizarre, which will for sure startle you. Atleast it did to me. Travellers now don't have to worry about the re-chargeable batteries because they can now be kept fresh and they can also retain 90% of their charge easily. The trick is simple, just take a completely charged recharge-able battery and place it in the fridge. Bizarre right, But it is said that the people who do this can mostly retain the full-battery power as cool temperature helps in retaining the power lost by recharge-able batteries. Thus, this tip had to feature in our list of Best Travel Hacks as it lessens the worry taken to charge the batteries.
Image Source: https://images-na.ssl-images-amazon.com/images/I/616hHnuR5lL._SL1000_.jpg
Every traveller nowadays looks forward to becoming the next Bear Grylls. Here is a tip which will not make you as him but will probably bring you a step closer. So for this trick just take a bottle filled with water and strap a head torch to the side of the bottle. And then let Madame Physics take over. There you go, you have your very own mobile bottle lantern which through refraction lights up your way ahead. This is an essential tip in the list of Best Travel Hacks.
Image Source: https://survivallife.com/wp-content/uploads/2014/07/title-image-how-to-camping-lantern.png
All the travellers who look to travel some of the wettest parts of India, Don't ever worry about having to carry a wet backpack. The solution is right here, Your backpack will safely be insured by the bees. The trick here is to buy a load of beeswax and apply it all over your backpack and camera so that these don't get wet due to the rain which will eventually lead in spoilage of your mood. To provide a second layer of waterproofing security to your backpack, Line the inside of your backpack with a bin-bag. Which will provide a more secure waterproofing. Two tips merged in one tip how's that for a change in the intriguing list of Best Travel Hacks.
Image Source: https://images-na.ssl-images-amazon.com/images/S/aplus-seller-content-images-us-east-1/ATVPDKIKX0DER/A0252963B0X1OB20Q9CI/B00B3U0FW4/7qvbs9jfQA2Y._UX899_TTW_.jpg
Power Strip or an extension box can earn you friends:
All the travellers have this weird dream of not being able to make friends during the trip, just a night before the trip. Their is a solution to this nightmare and it can most probably cause you to be the centre of attraction in the gang. The tip is simple, just carry an extension box or a power strip. Besides you charging your electronics through these devices, Give a chance for others to use your chargers or extension boxes. Carrying this device in your gang will make you popular among the gang and will also in-debt them towards you which will provide you with opportunities in which you can get favours from them. This is the most essential tip in the list of Best Travel Hacks.
Image Source: https://www.bhphotovideo.com/images/images500x500/Belkin_f9p609_03_6_Outlet_Power_Strip_901941.jpg
Looks like the Ten are over, Well that was soon. And here I was preparing some more, Well looks like for this time you will have to make your journey with these tips. But if you ask me, these tips are a life-saver as I have tried atleast 6 to 7 of them listed here in the list of Best Travel Hacks. These tips are somewhat bizarre right and especially the battery tip. So, travellers looking all good for travelling and trying out some of the Best Travel Hacks listed here, huh!